I never watched Kamen Rider Blade except for the few episodes of it in Kamen Rider Decade, so I can't really tell much about Leangle's story. What I know is, Leangle is the only Rider in Kamen Rider Blade which has an 'Open Up' type belt instead of the 'Turn Up' types which is used by Blade and Garren. (Also the only rider which has a gay-ass color scheme.)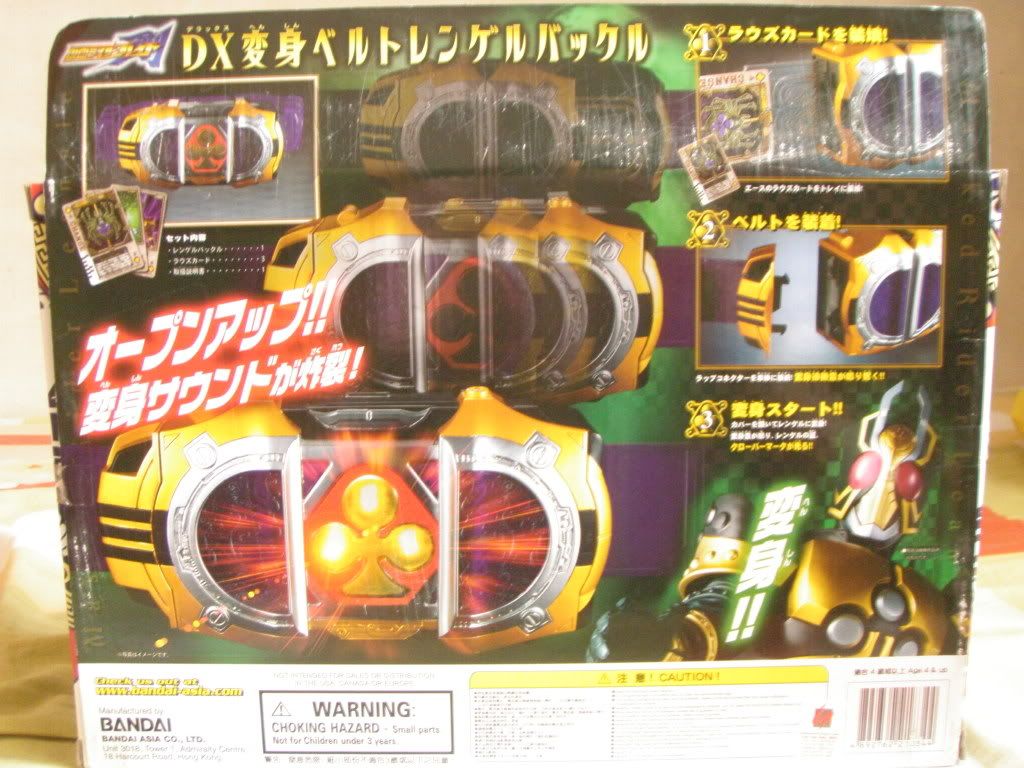 On to the buckle! What you get when you buy the DX Leangle buckle is :
1) Right belt strap with clip-on for main buckle.
2) The Buckle itself attached to the left belt strap.
3) Back belt piece to secure the belt when it is put together.
4) Instruction manual.
*Belt straps on both side features holes for you to attach card holders that come with Rousers.
5) 3 cards: Change, Leangle and Buckle.
The belt needs 2 AAA batteries to operate (like most of the DX toys).
To start playing, you first pull out the card tray on the right side of buckle. You put the CHANGE card on it and slide it back in (You don't actually need the card for it to work). Connect the buckle to the right belt strap so that it forms a belt and push the panel on the buckle to the right for "OPEN UP!" (it sounds more like "AOHPEN UP" XD). That's all you get, the buckle lights up once in a while if you leave it on.
The Pros of this buckle:
1) Functions 100% like in the show. Perfect toy.
2) Great quality, feels very good sliding the panel.
The Cons of this buckle:
1) One sound –I know it's true to the show, but one sound T_T-
2) GAY ASS COLOR SCHEME. PURPLE, YELLOW AND BLACK!!!
My conclusion: This is a great belt, full accurate to the one in the show. Makes a great display piece too, highly recommended for collectors. For the kids they will surely get bored with this one pretty fast. Better if you can get it cheap (very).