Alright, I haven't been doing any reviews here and so here I am again with another exciting item to review. Behold the DX Faiz Axel.
The one I have is the Bandai Korea version as all the texts are in Korean. Look how the box was so badly dented? It was MISB when I got it and the box was already in such a state.
The back of the box is completely similar to its Japanese counterpart and look, Faiz toys came in the same year as Hong Kong and Malaysia, 2004. This was of course a Bandai Japan repack. This thing is simple and yet it attracts me pretty well because it is the first watch type item in Rider history, which even Decade has one in his Faiz form.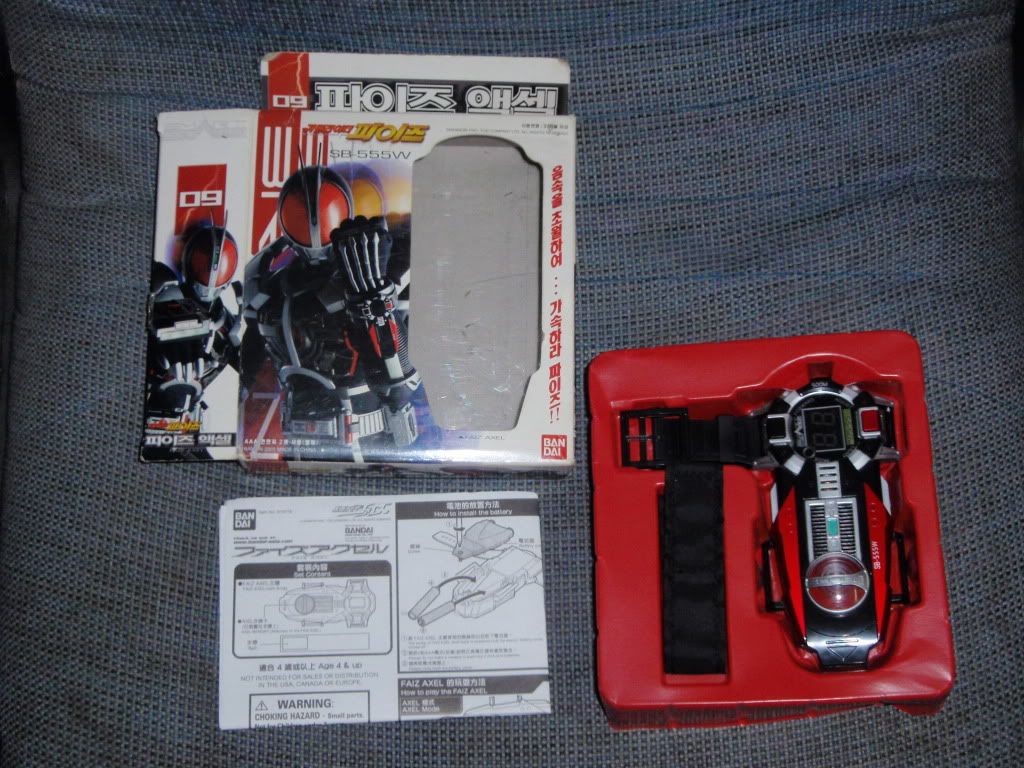 The contents is quite simple and not very complicated. You get the Axel Watch, a cloth strap as an enforcer for your wrist and a Hong Kong manual that has English and Chinese. Don't mind the manual, this guy is simple to operate.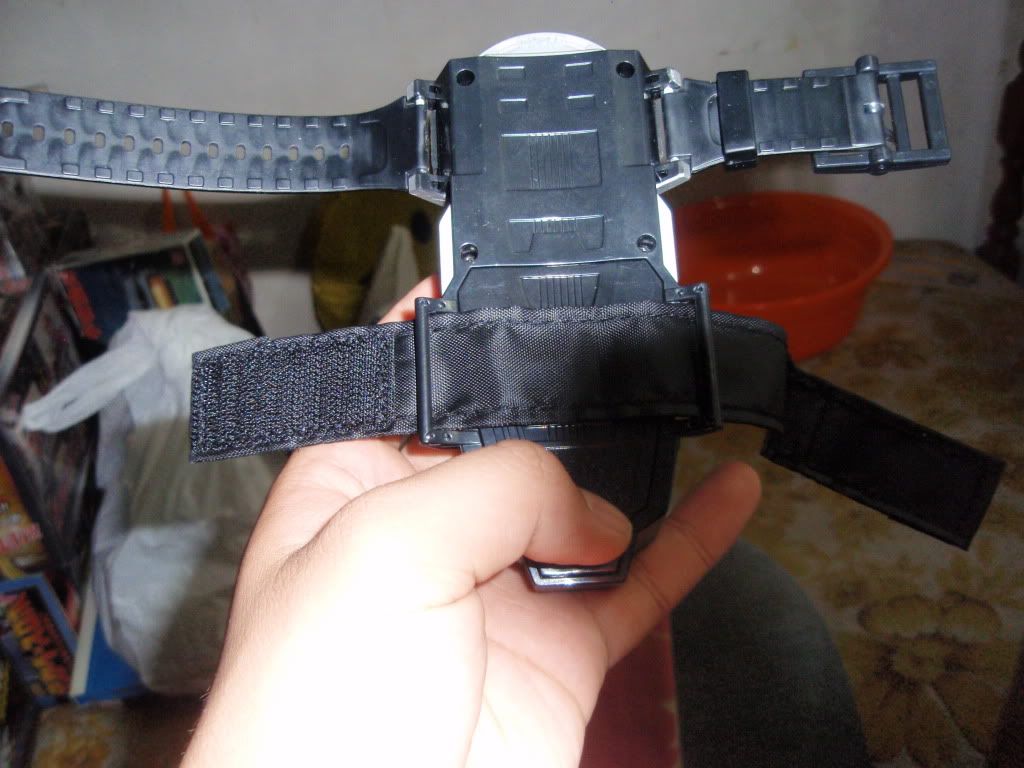 The cloth strap goes here and when you're done, you can wrap both straps over your wrist. However, only the cloth strap fits adult wrists while the watch strap doesn't. However, you play this thing even without the strap.
To play, follow these simple steps:
1) First, make sure the Mission Memory is inserted before you start anything.
The Memory looks like this when separated. When you insert the Memory in the slot, you don't get any sound but removing the Memory gets you a "Reformation" sound.
2) Start by pressing the 'RED BUTTON'. This will initiate the 'START UP' sound and the countdown timer begins with an engine sound running while the numbers are ticking. Do note that the numbers in the 2nd numerical slot does not run in a logical order.
3) When the first numerical slot's number reaches 3, it will start to have a sound of "3....2....1.... TIME OUT!". This is when Axel Form ends and you revert back to normal Faiz.
4a) However, because this item is around 3000 yen in retail, such simplicity cannot be tolerated by both the fans and Bandai themselves. Thus, they added a little snake game in it where you can access by PRESSING and HOLDING the BLACK BUTTON for around 3 SECONDS. This will activate the GAME MODE where you navigate the little snake to eat pieces and get longer, just like your regular cell phone snake game. Both Black and Red Buttons are useable for controls but I still don't know how the buttons really work in GAME MODE yet.
4b) Another interesting gimmick is that when you PRESS and RELEASE the BLACK BUTTON instantly, you'll get some funny number movement sequences. Pressing the BLACK BUTTON again will change it to another mode. You have a total of 5 to 6 modes in this and it's just for show.
FINAL VERDICT: I would say this item is accurately detailed. I like how the sounds are loud and how the functions actually work like in the show. The inclusion of the EXTRA MODES in 4a) and 4b) were fun but not totally necessary. They could have just reduced the price of this thing to 2500 yen or so and remove the EXTRA MODES that serve no purposes in the show. I'd give 4/5 stars for total and 4.5/5 stars for value for money alone. If you ever encounter this, do get it. It's a very sought after item that most of us tend to forgo.